Moy Park unveils 'This is Home' campaign to celebrate its 80th Anniversary
27 September 2023
The Moy Park brand is built upon 80 years of local heritage, passion, and expertise. For 80 years Moy Park has nourished and inspired homes with delicious quality chicken, creating those special moments at the dinner table.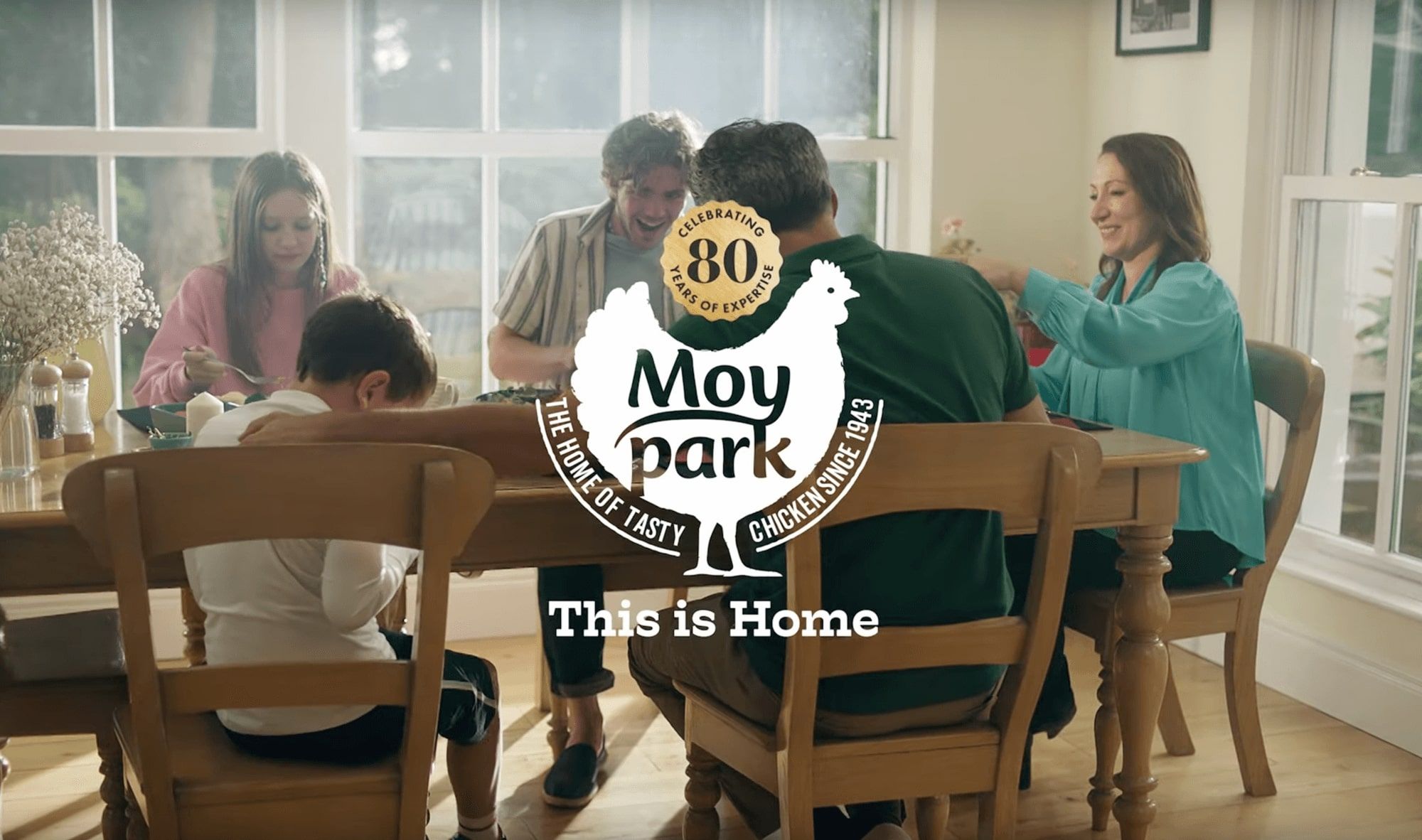 Their story began in 1943 in the village of Moy, County Tyrone and now the business spans 800 farms across NI and GB, with 12 production sites and 10,000 employees.
To celebrate their 80th anniversary, Moy Park will roll out a multimedia campaign called 'This is Home'. Providing inspiration and meals solutions for every occasion, whether you're at the family table or snacking on a packed lunch, when you bite into Moy Park chicken, you get the nourishing feel of 'Home'.
As part of the 'This Is Home' initiative, Moy Park will launch a TV campaign entitled 'Home for Dinner' which will celebrate being at the heart of many homes for the past 80 years and inspiring busy families to come together around the dinner table.
Ellen Wright, Senior Brand Manager said:
"We are delighted to introduce the 'This Is Home' campaign, as we thank all our loyal customers for bringing our quality and locally sourced chicken products into their homes over the years.
Our 'Home for Dinner' TV campaign tells a heart-warming story of a son, unexpectedly returning home to the warmth of his family and showing a busy mum doing her best to make sure dinner time happens, unaware her son is on his way to join them. The ad culminates an emotional reunion and family get together around a delicious Moy Park chicken dinner.
The TV campaign went live on Saturday 9th September during the Ireland Rugby World Cup game on UTV and BBC Sport Ulster and will continue to roll out throughout September and October. The campaign will be accompanied by out of home support with digital ads at Dublin and Belfast Airports. Keep an eye out on our social channels.
To celebrate with our fantastic retailers, we are also running an activation in store, giving our consumers the chance to win a £500 voucher for a local furniture/interior store to give their home a makeover. With the support of U105, we will be giving away six voucher prizes to cover all counties in Northern Ireland.
"In addition to this, several initiatives will be running throughout the year to reward charities, communities, and schools. We are so excited to celebrate our 80th anniversary and it means a great deal to us to be able to give back to the people who have supported Moy Park, and especially to some of the many charities we've supported over the years."